24 Hours at SXSW 2010 - March 20th 2010 with Zack Teibloom from the Festival Crashers
Unless you're surgically fused to someone, chances are you aren't going to have the same experience at SXSW as anyone else. With that in mind, we invited some of our friends from around Austin and the country to document 24 hours of their experience at SXSW. Geeks, filmmakers and musicians will all be sharing their SXSW 2010 experience with us. There might be some surprises!
Today's guest, Zack Teibloom, is part of festival crashers, a site dedicated to covering big music events around the country. Using a more immersive style for covering music, festivalcrashers.com helps you feel like you are there. Zack also recently launched Austin Vinyl to help connect Austin's vinyl loving community. Here's a look at Zack's 24 hours at SXSW
12:00 a.m. "Are you a birthday candle? No? That's too bad. I wanted to blow you until all my wishes came true." That's Kristen Schaal giving advice on how to pick up a hipster guy at SXSW. She's decked out in a whoopie cushion costume and fake moustache before later changing into her "Queef Queen" dress. I have a feeling she spent some time in Austin's Lucy in Disguise with Diamonds costume shop.
12:30 a.m. @ZackTeibloom "You haven't lived until you've heard Tig (from Sarah Silverman Program) do a clown horn impression."
1:00 a.m. Walking back to the car after Todd Barry ends our stand-up set at Esther's Follies. I glance down an alley and see a girl pulling up her pants after peeing, a stray dog and a pirate? I'm pretty sure I saw at least two of those. I need to get to bed.
2:00 a.m. Let's just say I'll be happy to not have to wear seven abrasive plastic wristbands tethered to my dominant hand from now on. Especially in bed.
7:20 a.m. My alarm to take my girl to the airport goes off. It's raining. I've been at work at 6 a.m. every day this week. Snooze.
7:30 a.m. Drag the luggage to the car, brave the rain and head to the airport.
8:15 a.m. Get a Sonic breakfast sandwich, some tots and O.J. and head back to bed after the airport run. This felt like a bad idea even at the time.
11:30 a.m. Awake. Time for more breakfast. Soyrizo, pepperjack cheese and an egg thrown in a pan. Wash it down with Sweet Leaf Tea and head downtown.
12:45 p.m. Walking to meet friends and notice my fly's open because the wind's blowing so hard it's whipping through my boxers. It's that cold. A Chicago wind.
1 p.m. @FestivalCrasher: A couple free Bloody Mary's during a strong set by British rockers The Crookes at British music embassy. Stayin warm with spicy bloodys. #Sxwin
1:05 p.m. @ZackTeibloom Do I have to call it a bloody bloody Mary since I'm in the British embassy? #dadjokes
1:20 p.m. After a delightful show by The Crookes where they with a song in the middle of the crowd without their instruments plugged in, I head to Peckerhead with @den_mom and @supercooleric. Along the way I put up Dead Weather posters for Filter.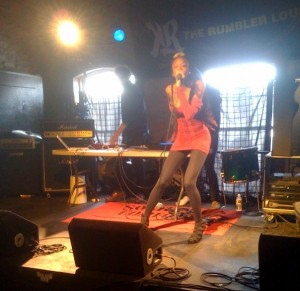 1:30 p.m. Dominique Young Unique performing at Knuckle Rumbler party. She stares @den_mom down with an "If I wanted to, I could steal your boyfriend" evil eye. Then she locks eyes with Eric. Her name is tattooed across her chest. I'm scared. We leave.
To continue reading about Zack's day at SXSW, click here:
1:40 p.m. Back to B.M.E. for Broadcast 2000 and a couple free 7 and 7s.
1:55 p.m. The drummer of Broadcast 2000 is playing luggage. How. Does. That. Work?! http://tweetphoto.com/15133638
2:05 p.m. Put up more Dead Weather posters on the way to the Mohawk to get in line for Broken Bells and Black Keys.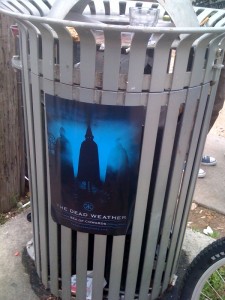 2:20 p.m. I realize my drivers license I'd put back loosely in my pocket is now missing. If I can't find it, my day is pretty much over. I get lucky.
2:25 p.m. @ZackTeibloom Only I could manage to drop my drivers license on the ground and find it 10 minutes later. #sxswin
2:50 p.m. I can hear "The High Road" from Broken Bells, but … @festivalcrasher Mohawk line for broken bells/black keys is not moving. Even for badges/wristband. And I jumped the line a lot. Stand still.
2:55 p.m. @festivalcrasher I may have to jack this Mohawk door guy with the white sox hat on right in his fat ugly face if he doesn't let anyone in soon. (I left and headed to Galaxy Room)
3:00 p.m. @festivalcrasher Now I know why they call themselves Holy Fuck! @galaxy room #sxswin  They're pure fire.
3:10 p.m. Regretting I'm not at Ben Gibbard: @festivalcrasher RT @wornwhite: http://twitpic.com/19ubi9 - ben gibbard. so worth the wait. #sxswin
3:15 p.m. Free Kale and coconut meat w/ raw BBQ @ Galaxy after Holy Fuck! ends. I take two bites of Mango popsicle, but it's way too cold for ice cream.
3:25 p.m. Back to the British Embassy for lamb and stuffed cheese and meat puffs, beers and vodka red bull. I'm beyond full at this point.
4:10 p.m. Wood Hands at Knuckle Rumbler with the Butler NCAA game in the background. I notice I have blood on my hands. Not sure how to feel about that.
4:35 p.m. Head to Austin Record convention, but stop to use my VIP at Pure Volume for some tea and vodka. And a taco bell taco. I know, I know. I have no idea why I'm eating either. I don't even like Taco Bell soft tacos.
Statistics halfway through the day
Free drinks: 7
Meals: 4.5
Tweets: 15
4:45 p.m.Free cupcakes in front of record convention. I can only eat one bite. Too. Much. Sugar.
4:50 p.m. Quick stop at the Guitar convention on the way to the record convention.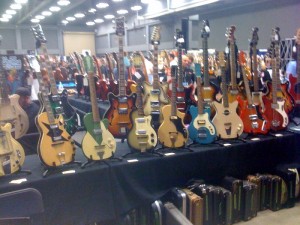 5:05 p.m. @Austinvinyl Last 40 mins at the record convention. Lots of deals. Even this kid is hustling http://tweetphoto.com/15164015 Everyone is walking around like a zombie. The last hour of a record convention is kind of sad, as much as I love record buying. The kids of the dealers are half falling asleep. Everyone wants to pack up and get home.
6:05 p.m. One more drink at Pure Volume VIP before giving my VIP passes to the last two people in line and heading to see Perez line
6:30 p.m. Get to Perez line and it's three blocks long. @Festivalcrasher: Perez Hilton line at 3rd and brazos is INSANE.
6:45 p.m. The tweeters are going crazy. Everyone is saying you need a printed RSVP to get into Perez, so there's a mad dash to Kinko's.
7:00 p.m. @festivalcrasher Printed out extra perez passes. Made friends near front of line. They have sandwiches. #sxswin
7:30 p.m. The hype machine is officially out of control. According to rumors, Jay-Z, Justin Timberlake and M.I.A. will be at Fader Fort. Oh, and Barack Obama is introducing Jigga?! @festivalcrasher Can you confirm jay z @levisfaderfort? Anyone?
7:50 p.m. @ZackTeibloom I. Want. Warm. Things. RT @seanoneal: Perez Hilton party features iced coffee and a SnoCone machine. Perfect. @sxsw
8:15 p.m. It's freezing in the line and we're not moving. At all. I can't move my arms. Everyone's pushing.
8:35 p.m. "Who has an extra plus one?!' comes a voice. I'll always take that opportunity. I jump a decent portion of the line with my new friend and give him my plus one. He keeps singing "Single  Ladies" with no prompting and isn't the best company, but we're all just figuring out how this line is even working. If it is at all.
8:45 p.m. @ZackTeibloom "This is America! Step back! We're not going treat this like a concentration camp! -head of Perez line #sxsw
8:55 p.m. @festivalcrasher Rampant cutting at perez. It's like an army of me. Mostly proud but it's almost chaos.
9:00 p.m. In a shocking turn of events, a cop makes a quick announcement to clear up the line confusion, barricades it off effectively and elicits cheers and a cat call of 'Sexy cop!" I've never seen this happen before.
9:10 p.m. We're moving. The Jay-Z rumors die. @Festivalcrasher: NO JAY Z RT @360sxsw: pollstar definitely has jay-z in indianapolis tonight. folks are tweeting from that show…
9:20 p.m. @ZackTeibloom Finally in perez. Taking a lap around.
9:30 p.m. Macy Gray is killing it with a cover of  Arcade Fire's "Wake Up." She puts on a dynamic set with a full band, covering Rod Stewart, belting "If you want my body, and you think I'm sexy…" in her raspy voice before going into her big hit "I try" which gets a big sing-a-long.
9:45 p.m. Patron Cafe mixed with Cappuccino seems like a good idea.
9:55 p.m. Hahaha thanks for that. RT @shueytexas: @ZackTeibloomDon't say "finally in Perez." I was eating.
10:00 p.m.@Austinvinyl There are about 200 vinyl LPs on display at perez. Most good. Reggae/hiphop. Who brought them? Where will they end up?! <—I know where Live Toots and the Maytalls, Bob Marley Legend and a XZibit single ended up. Shh. Don't tell.
10:15 p.m. Switching off between Alize and Tito's and tea. I can't taste tastes anymore.
10:30 p.m. Found a couch. Don't ever want to leave it. Feet are dead.
10:50 p.m. @Robcheid crashed the party by yelling "Sparta!" and charging the door. His friend wimps out, so I throw my wristband to her out the door. She still can't manage to get in. Some people you just can't help. My boys @Chrisinaustin,  and @neiliyo got in.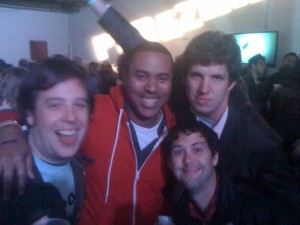 11:10 p.m. I yawn to the tune of "We Will Rock You." Would you believe it's not 12 hours later and I haven't been to sleep?
12:00 a.m. Marina and the  Diamonds playing a brilliant set, closing with their infectious "I am not a Robot." After a week of SXSWing, I feel like I'd have to be to be going this hard still. I've still got a Snoop Dogg, Estelle and Hole set left in me for the night. I ended my night around 2:30 as Courtney Love sang "So glad you could make it" from "Celebrity Skin." I decided since I had to be a work at 6 a.m. this morning, I'd stay up all night. I am a robot. A festival robot.
It continues on over at Festival Crashers
Related posts:
Related posts brought to you by Yet Another Related Posts Plugin.