Why You Should Fire Your Bank and Move Your Money.
I have to thank the big banks for one thing: By jacking up my interest rates on my credit cards for no reason, they firmly cemented my resolve to get out of debt.  Since that time I've been looking for a way to get back at them.  But, oh, how can little ol' me with my huge debt and small bank balance make any sort of impact?  I thought it was hopeless until I heard of this grassroots movement called Move Your Money.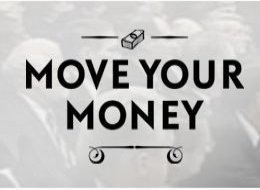 What Move Your Money is doing is reaching out to everyday people, like you and me, and asking us to switch from using big corporate national banks to local community banks and credit unions.  If they are too big to fail, let's make them smaller! The movement is gaining steam and has been featured in several national media outlets.  What a great way to use the collective power of people fed up with the greed and irresponsibility of Wall Street to make an impact!
At the bottom of this post is a tool to help you find a community bank in your area.  [Also, check out our list of 5 Austin Area Banks and Credit Unions]. I was surprised how many there were around me that I had never noticed.  Right now their tool doesn't locate credit unions, but the website has a link to another site to help you find those, too.  I've been thinking about switching banks for a while, and now that I can be a part of a movement, makes me even more motivated.
WATCH: Watch the clever video created by Move Your Money relating the current crisis to the quintessential holiday movie It's a Wonderful Life
COMMENT: Do you use an Austin or Texas bank or credit union? Help others who want to switch to a local bank by letting us know which one in the comments.  Also, if you use a big box bank, how is your relationship with your bank going?  Would you be willing to switch to send a message to Wall Street?
Move Your Money

Join the Sea Change
Related posts:
Move Your Money-A Review of Five Austin Area Banks and Credit Unions You Should Look Into Rachel takes a look at five of the Austin-area based...
Related posts brought to you by Yet Another Related Posts Plugin.