"September 25th, 2009: Conversation Piece at the United States Art Authority"
Last Friday, we hit up the United States Art Authority for Conversation Piece put on by Austin advertising agency The Screamer Company.   The party billed itself as "an art exhibit and social experiment."  We like that sort of ish AND there was an open bar, so we had to go.
If you havent been to United States Art Authority, you have to check it out.  The space, owned by the Spiderhouse crew, is one part dance hall and one part gallery. In the middle of the dance floor, there was a toilet on which people were drawing.  The owner of The Screamer Company told us he was going to make it the agency's main toilet. Hmmm…maybe that was the social experiment?
The art was all created by young artists, and I'm not gonna lie: I would have loved to see any of those works hanging around my house.  Some of our favorites include work from Kevin Munoz, Diego Mireles, David Clark, Jay Guernick and Public School's Will Bryant.
FInd pics of the party after the jump.  You can also find the complete sets on the Republic of Austin Facebook Fan Page (tag 'em, peeps) or on our Flickr feed. Oh yeah, don't forget to follow us on Twitter to get the scoop on all the happs around Austin!
Want us to come to your event? Email tips[at]republicofaustin[dot]com, or fill out the form on our contact us page.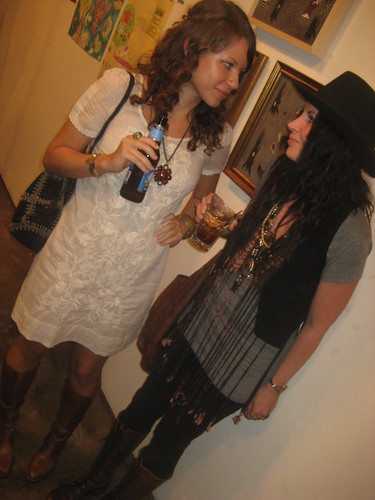 No related posts.
Related posts brought to you by Yet Another Related Posts Plugin.