"Procrastinator's Guide to Austin Parties: Weekend of October 16th and 17th, 2009″
It's 4PM on Friday.  You've worked your butt off all week. In fact, you've been working so hard that you didn't even realize it was Friday till you got a text from a friend: "Yo! What's good?! What's the plan?"  No need to scour the Internet.  Check out our procrastinator's guide to the weekend happs in Austin.
We don't have everything (Check out our buds The Peen Scene for a full list of the nightlife party events in Austin or check out Do512 for everything else). But what we do have is good.  Plus, it's pretty much certain that someone from the RoA team is gonna be there. If you see us, say hi!
INTERACT:  Did we miss something? Let us know in the comments! Got something coming up? Email rory[at]republicofaustin.com or hit up our lovely "Contact Us" page.
Friday, October 16th, 2009
Beards, Booze and Brews
Sugar Mama's, Treaty Oak, Saint Arnold Brewery, Bird's AND beards? OH MY! It's Beard Folks at Austin Handmade (2009 S. 1st St) from 6.30-9.30P.  The interactive "beard photobooth" may be the only time this dillo mug will have any facial hair, and given the sponsors, we think there may be some sort of free booze. Plus, Austin Handmade's brick-and-mortar store is closing their doors on Nov. 1. Don't fret: The online store will still be open!
Deets: Austin Handmade (2009 S. 1st St); 6.30-9.30P; FREE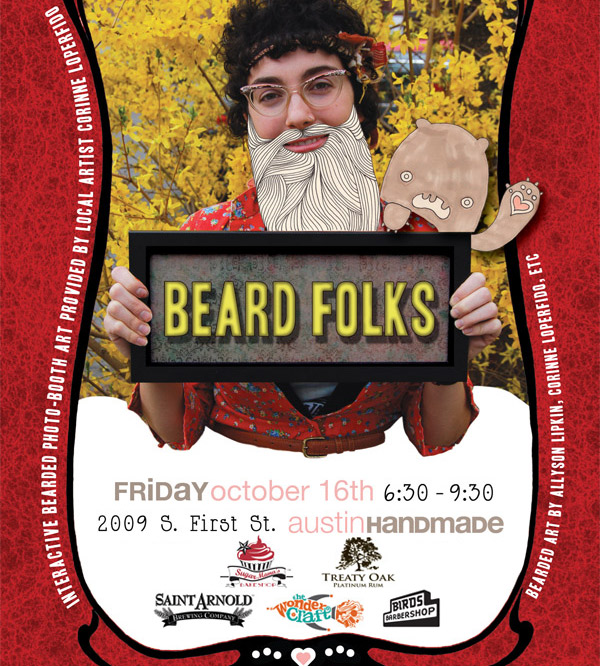 Holy Cow: Holy Ghost!
Yeah, so we've loved music duo/remix team Holy Ghost! forevs. Well, anything off of DFA Records (The Juan Maclean, LCD Soundsystem, Delia Gonzalez & Gavin Russom) is borderline amazing.  From obscure disco trax (not cheesy KC and the Sunshine Band ish) to gay 80′s bathhouse to italo to funky house, they'll keep you dancing. So bounce, rock or skate on over to the Learning Secrets Party at Barcelona.
Deets: Barcelona (209 E. 6th); 10P-LATE; $10 w/ RSVP $12 w/o RSVP; 21+
Try before you buy: Check out this DJ set by Holy Ghost! from a DFA night at the MOMA in New York from 2008 (mp3)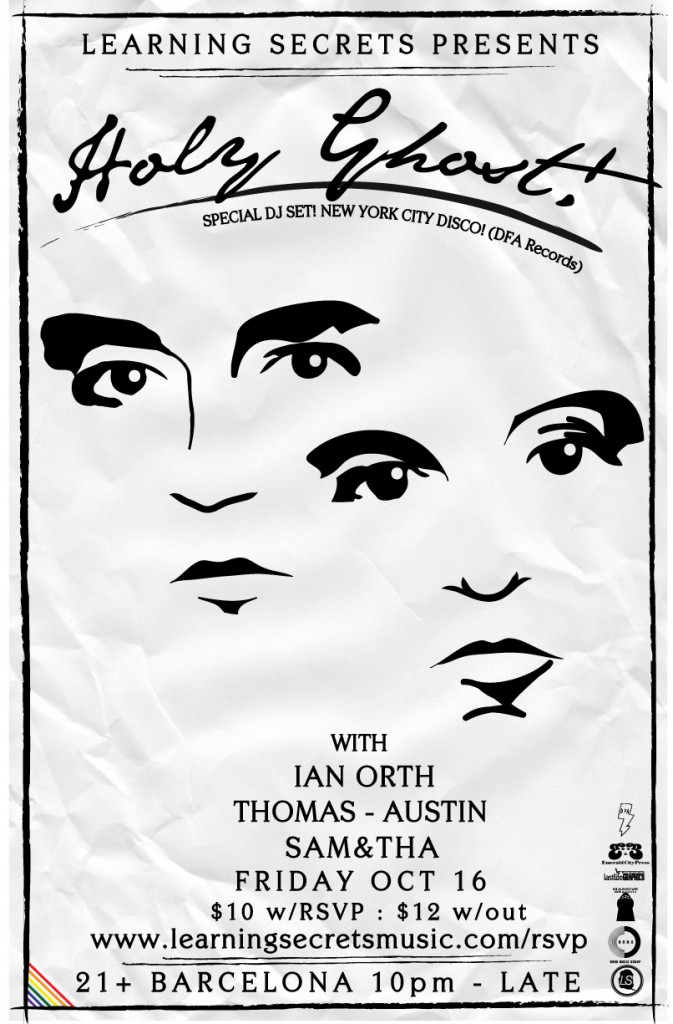 Bring out the Hipster in YOU!
Have y'all checked out that crazy, circus sideshow type place on the East Side? It's called Cheer Up Charlie's and I'm sure you've passed it on the way to Shangri La. If you haven't peeped it yet, tonight's party, High Society Presents Super Happy Hour, might be the perfect night. FREE beer (while supplies last), Vegan food, horseshoes and local DJ's. Plus, there always seem to be lots of hula hoops there.
Deets: Cheer Up Charlies (1104 E. 6th); 5P-4A; 18+ (don't quote us on that)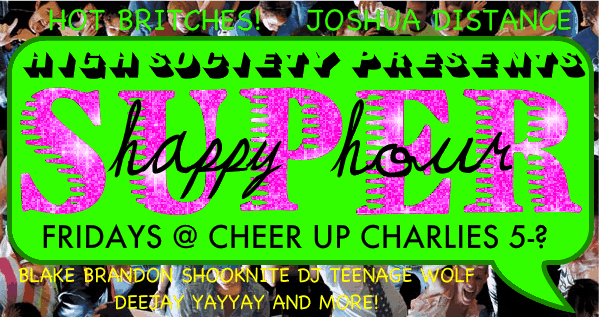 Saturday, October 17th, 2009
Ding Dong The Car is Dead
New Belgium Brewery is touring the country in hopes of changing people's beliefs on car culture.  The Tour de Fat looks like a carnival de bike: There's a costumed bike parade and one lucky person will get a pimped out bike if they sacrifice their car to the Tour de Fat altar.  There's also a funeral procession to the car.  New Belgium is selling beer, but all proceeds go to local charities.
Deets: Fiesta Gardens (2101 Jesse E Segovia St); 9A-4P; FREE; All Ages (Family Fun!); No Pets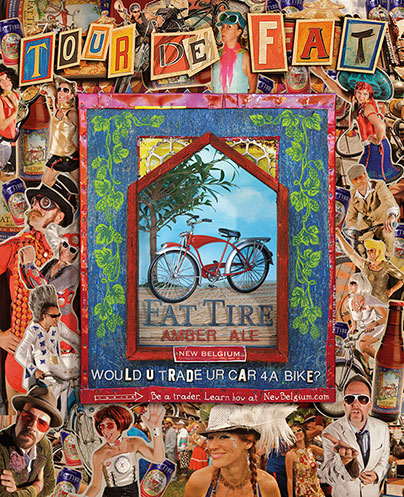 Ready to Die…from Dancing
If you were alive in the 90′s, you may remember EAST COAST vs WEST COAST, Biggie Vs Tupac.  Well, How about soul vs machine gun funk? That's right, it's time for Notorious Funk: Brown vs Biggie. With DJ's Prince Klassen and DJ Orion on the ones and two, you'll be ready to die…from dancing!
Deets: Scoot Inn (1308 E. 4th Street); 9P-2A; $3 w/ RSVP $5 w/o RSVP; 21+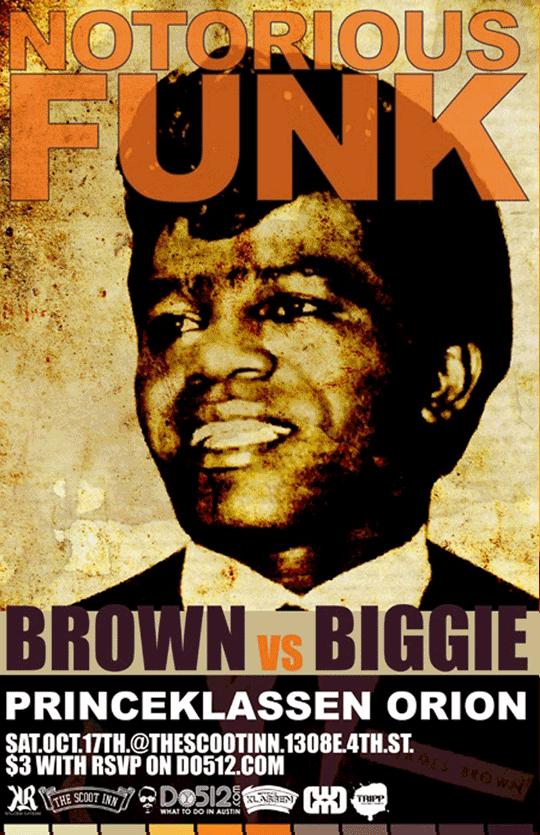 Workout Your Inner BetaPlaya
Latin Indie Hip-Hop Fusion. Sound too good to be true? Well, what if there was FREE beer (while it lasts) and FREE food? Hit up the Music Gym for Betaplayer and Zeta Brown.  You can also BYOB!
Deets: Music Gym (815 E 6th); 9P-LATE; $5; BYOB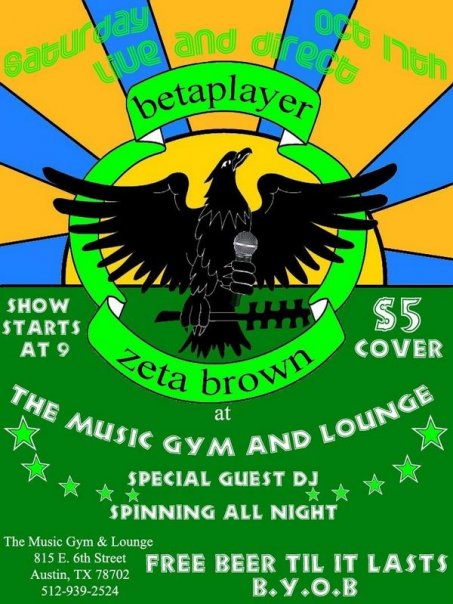 It's Electrifying!
Tired of all those big (massive) raves electronic music events that cost $400000 to attend? Yeah, us, too.  This Saturday at Electri-City you can check out local electronic musicians performing electropop, rock and dubstep. Performances by: ArcAttack, Gobi, DubNautica plus DJ set from Chicago DJ John Thomas.  Something about eye=poping midi controlled something or others also have us pretty excited!
Deets: Kenny Dorham's Backyard (1106 E. 11th St); Doors: 8.30 Bands: 9P; $5 w/RSVP $?? w/o; ALL AGES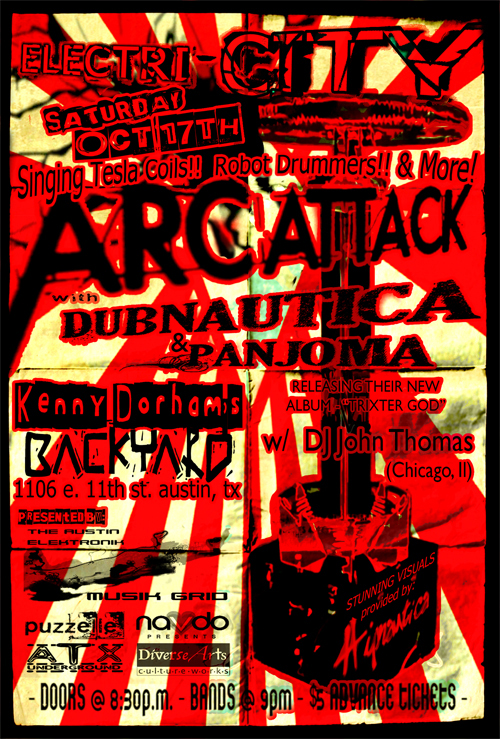 Glamour and Sickle
Dress to transgress is the tagline for Gadjo Disko, a sort of eastern block ball of dancing decadence. Check out the pages for pictures, but any party that is discounted for those who dress up gets a +++ in our books. Kinda like NYC in the early 80′s or Berlin in the, well, now. This party is HIGHLY recommended.
DEETS: The Cockpit (113 San Jacinto); 10P-4A; $7 w/costume $15 w/o costume; 21+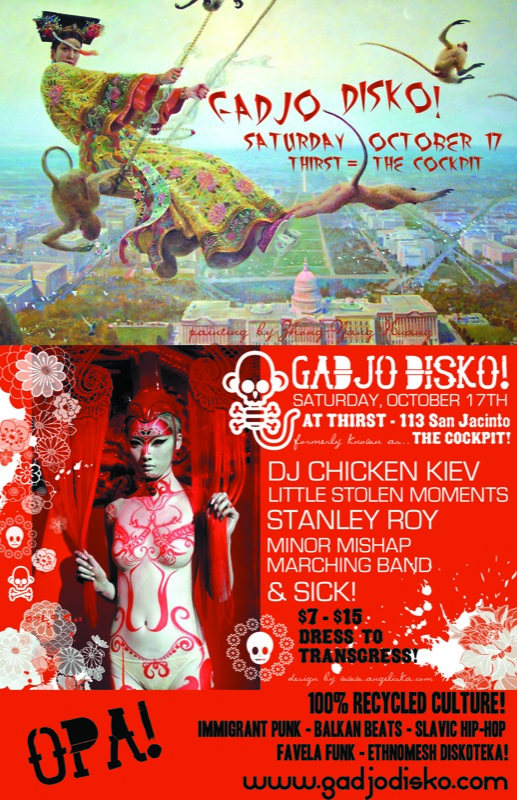 Do You Feel Lucky?
You ever have one of those nights where you just kinda throw caution to the wind and follow your zen around town? Those nights can be the funnest EVER.    If you are feeling courageous, peep this:
We are playing a house show on Sat. Oct 17 with Woodgrain, Butcher and the Bear and FM Campers. Anyone who goes can pick up a free demo with a handmade case, (each one is different!) or we'll have a bucket of art supplies and you can make your own. Come hang out if you get a chance, we'll make you a custom cd, maybe share toothpaste, exchange platonic backrubs and perhaps play an exciting game of bingo.
Deets: Lil Num Num House (4329 James Casey St); 5P-??; FREE
No related posts.
Related posts brought to you by Yet Another Related Posts Plugin.