"REVIEW: My Pre-Holiday Getaway at Austin's Lakeway Resort and Spa"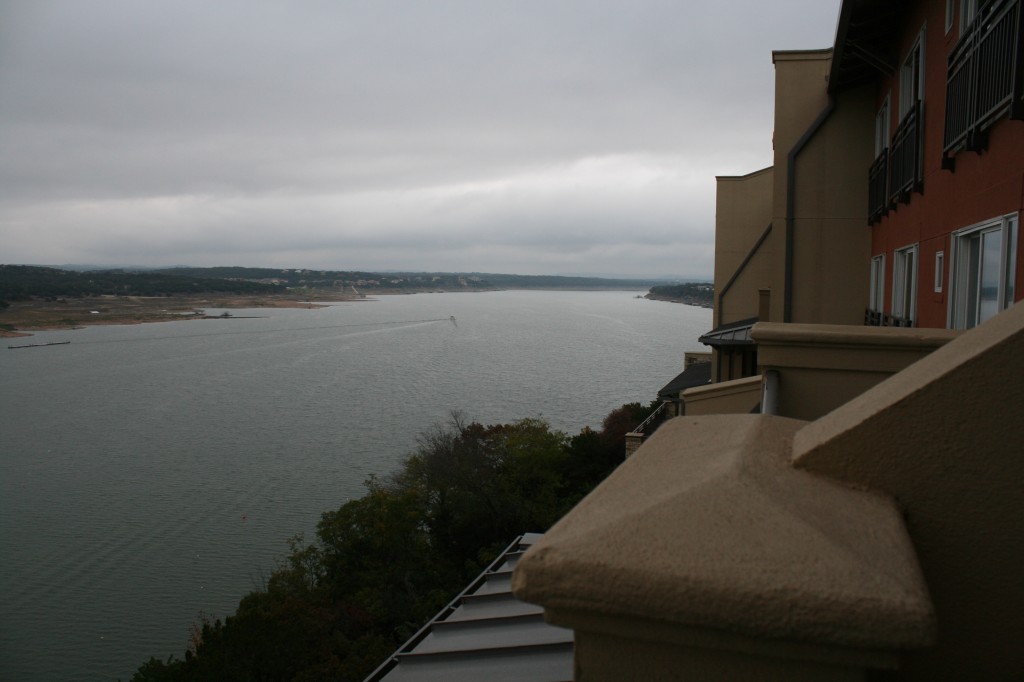 Lakeway Spa and Resort offered RoA a free night's stay.  You all know that I love to travel, and since money is tight this time of year, a girl's got to do what she can to keep living the fantasy, right?  So a few weekends ago my husband and I loaded up the kids and drove the thirty minutes out to Lakeway.  We were hoping to have a relaxing getaway before the craziness of holiday parties and shopping took away all our free time.
What we liked:
The views were amazing!  Once we got to our room my husband and I walked out on our balcony and totally felt like we were in a different place.  Lakeway Resort plays up this amazing scenery with floor to ceiling windows in all the dining areas and spa.
The 2-4-6 Happy Hour.  Although the resort paid for our room, we still had to pay for our food and drinks, so their happy hour was welcomed.  We split the yummy Chicken and Waffles (sounds funny, but trust me it's delish!).  I was also thankful to get a nice little buzz off some, okay several, $2 beers.
The Wii in the lobby!  We don't have a gaming system at home, so we had a blast bowling on the Wii.
What disappointed us:
Other than playing the Wii, there wasn't much else for us to do.  We were miserably tempted by the awesome pool and water slide, but we couldn't enjoy them because it was too cold.  A heated pool would have been nice.
Our waitress didn't know what the Happy Hour specials were.  The Happy Hour was really well advertised throughout the hotel, but once we got in the restaurant, our waitress didn't even mention it.  There wasn't even one of those little placards on the table.  Hmmm, made me a little suspicious of the ol' bait and switch routine.
Breakfast at the Back Porch Cafe was just okay and expensive.  We spent $30 on breakfast tacos, coffee, and muffins.  Ouch!
Our WTF moment:
At dinner, they gave my daughter a coloring book, but they didn't have any crayons!  That's like letting her into a candy store but telling her she can't have any candy.  Give the girl some crayons!
Overall, it was a nice change of scenery for a day, and I got to spend some quality time with the fam.  I could see it being a really great place to take the kids in the spring or summer, since then they could enjoy the pool.  Couples and girls' weekends would be good now since rates are cheap, and you could at least enjoy the hot tub.
FINAL GRADE: C (incredible views, pools not heated, uninformed staff) I would guess that the grade would go up with warmer weather.
COMMENT: Have you ever stayed at the Lakeway Resort?  What was your experience like?
WATCH: Check out the video, below, to see what our trip was like and experience it firsthand!
GET UPDATES: Like what you read? Add our RSS feed! [what's that?]. Or start your morning with Republic of Austin in your InBox! Or read us 24-7 on Twitter!
No related posts.
Related posts brought to you by Yet Another Related Posts Plugin.