Michelle C's Guide to Eating in Austin on the Cheap.
Editor's note: While our lovely personal finance blogger Rachel is out on a trip to Europe, she's arranged a few of her favorite Austin bloggers to guest post. You can see pics and read about her European adventure here.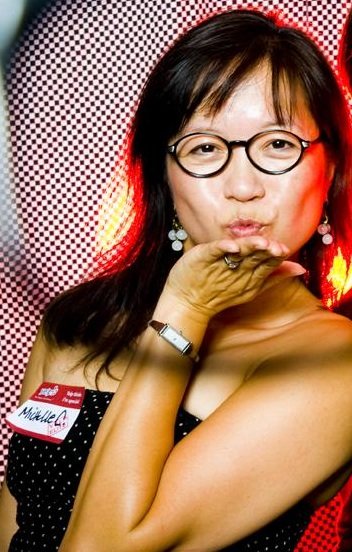 Today's guest blogger is Michelle from popular Austin food blog Foodie is the New Forty. Mostly known for her food reviews, Michelle does a great job of evaluating restaurants in the context of taste, quality and price. All y'all Yelpers out there might also know her for her more than 580 Austin-area posts on the popular review site. In today's post, she's gonna drop her list of favorite places to eat at in Austin on the cheap.
When personal finance blogger Rachel Naugle invited me to write a guest post for her here at the Republic of Austin, I was both flattered and a little intimidated. I don't know anything about finance - what could I possibly add to that discussion? But then Rachel suggested a post about dining out on a budget, and immediately, the ideas started swirling in my head. You see, this girl loves to dine out. But even on those days when I ought to be eating on the cheap, I'm not really OK with sacrificing deliciousness. Fortunately, there are lots of places in Austin where you can have great grub without spending a mint. Here are a few of my favorite places to go where you can dine for under $10 while still satisfying your foodie gene.
Tacos Are Your Friend
Tacos are one of those food items that are, with few exceptions, pretty darn economical. Even the tacos on the more expensive end of the taco spectrum (e.g., TacoDeli and Torchy's) only run between $3-$4 apiece. Need more than two tacos for your $10? Try the amazing al pastor tacos at the La Guera taco truck ($1.50ish apiece); the tender pork leg or luscious lengua tacos at Taqueria Arandas on Burnet Road ($1.60 apiece); the carnitas at La Michoacana; or, for a bit of fusion fun, the spicy pork tacos at Chi'Lantro Korean BBQ ($2 apiece). Topped with kim chi…how can you go wrong?
Affordable Asian
If you love Asian food the way I do, this food genre will provide you with a vast array of delightful dining options that are incredibly economical. One of the cheapest is bánh mì, a Vietnamese sandwich made on a baguette very similar to a French baguette - with a bit of crunch on the outside and a soft middle. Fillings vary, but they usually include some sort of meat (tofu versions are also available at some places), pickled veggies, cilantro, some sort of hot pepper (I usually see thinly sliced jalapeno), and mayonnaise. Best of all, a large sandwich is typically less than $5; sometimes, substantially less. I'm partial to the ones at Thanh Nhi because they run a buck or two cheaper than my other favorite, Tam Deli, but both are really terrific. Also, people I trust like the ones at Baguette House - which, sadly, I have yet to try.
Another popular Vietnamese dish, called bún, or vermicelli, typically comes in HUGE portion sizes and only runs around $5-$6. I have a nostalgic spot for the shrimp, garlic, hot pepper, & lemongrass version at Kim Phung because it was my "special treat" dinner when I was in graduate school (when my daily food expenditure averaged $3, a number I still have trouble wrapping my brain around). I also love Kim Phung's spring rolls, which are pretty large and make a nice, light meal standing alone in the summertime (three large rolls are just $3.50).
I'd be remiss if I didn't add one more typically-cheap Asian dish to the mix - a Korean delight called bi bim bap. A refreshing mix of meat, fresh veggies, and a fried egg over rice make this a yummy choice for summer time (although I like it all year round). New Oriental Market has a version that rings in around $6 for a ton of food, and includes a nice accompaniment of Korean pickled veggies. I also like the version at Shilla, although it's ever-so-slightly more expensive.
.
Best of the Rest
Lest you're not a Mexican or Asian food lover, I'll offer up a few of my favorites in the "other" category. As far as burgers go, I'm partial to the 78704 burger at Phil's Ice House. It's topped with Monterrey Jack cheese, jalapenos, grilled onion, and chipotle mayo, and will run you just $7 and includes fries (half sweet potato, half regular fries). If you're feeling flush (flushed?) you can cool down with some Amy's Ice Cream, conveniently located right next door. For a dynamite sandwich, you must head straight to FoodHeads - their sandwiches are pushing up against the $10 mark when you figure in tax, but with selections like Garlic & Herb Roasted Leg of Lamb or Salmon Salad, they're well worth every penny. Or get your dawg on at Frank, where a pretty righteous Chicago dog and a small order of waffle fries with your choice of interesting dipping sauces will set you back a mere $6.50.
None of these options appealing to you? Surf on over to one of my favorite sites, Frugal Feaster, where you can find happy hour specials organized by the day of week and a comprehensive list of places that serve half-priced appetizers. Note that restaurants change their specials at a moment's notice, though, so be sure to call the restaurant in advance to make sure the info is accurate before you head over. The inimitable Christian over at Austin Food Journal also has a delightful happy hour list.
With all the money you'll be saving, well, you're just going to have to eat more often. Happy dining!
COMMENT: Where do you go when you can't spend a lot of money but want to have a delicious meal?
Like what you see? Be our friend on Facebook. Add our RSS feed! [what's that?]. Start your morning with Republic of Austin in your InBox. Or read us 24-7 on Twitter!
Related posts:
A Down and Out Guide to North Austin Dive Bars Wanna get away from the hustle and bustle of DT,...
Related posts brought to you by Yet Another Related Posts Plugin.