Fun Fun Fun Fest 2010 Line-up [OFFICIAL]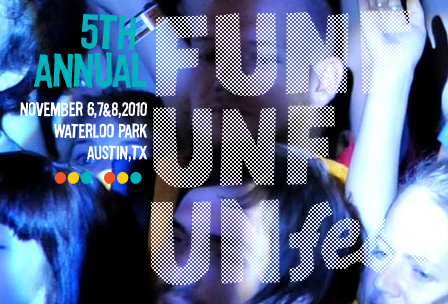 Hey y'all. At the Fun Fun Fun Fest 2010 Press Conference.
Couple of my faves:
Gwar, MGMT, Dirty Projectors, Slick Rick, Weird Al, Ariel Pink, Toro Y Moi, Designer Drugs, Yelle, Dam-Funk, WAVVES, Best Coast…
Here's the official 2010 Lineup
Official Fun Fun Fun Fest 2010 Lineup [Click to enlarge]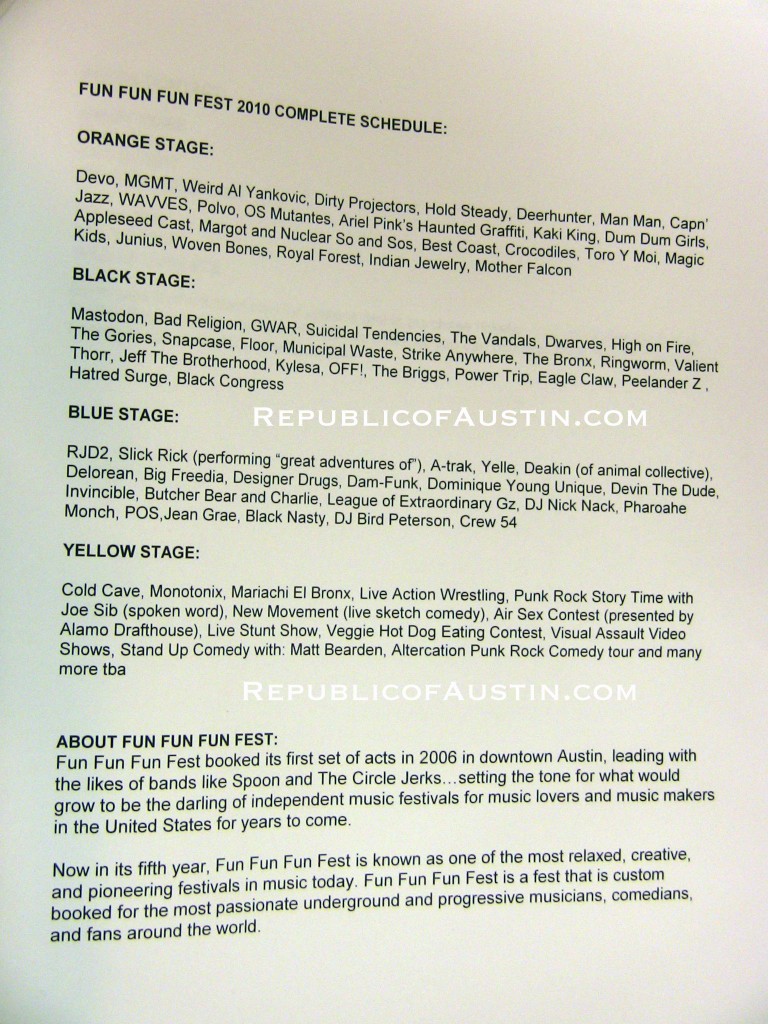 FUN FUN FUN FEST 2010 COMPLETE SCHEDULE:
ORANGE STAGE:
Weird Al Yankovic
MGMT
Dirty Projectors
Man Man
Capn' Jazz
OS Mutantes
Ariel Pink
Appleseed Cast
Margot and Nuclear So and Sos
Toro Y Moi
Junius
Woven Bones
Royal Forest
Devo
Hold Steady
Deerhunter
WAVVES
Polvo
Kaki King
Dum Dum Girls
Best Coast
Crocodiles
Magic Kids
Indian Jewelry
Mother Falcon
BLACK STAGE:
Bad Religion
GWAR
The Vandals
Dwarves
The Gories
Municipal Waste
Strike Anywhere
The Casualties
Valient Thorr
Jeff The Brotherhood
The Briggs
Power Trip
Eagle Claw
Mastodon
Suicidal Tendencies
High On Fire
Snapcase
Floor
The Bronx
Ringworm
Kylesa
OFF!
Peelander Z
Hatred Surge
Black Congress
BLUE STAGE:
RJD2
Slick Rick (performing "great adventures of")
Deakin (of animal collective)
Delorean
Big Freedia
Designer Drugs
Devin The Dude
Invincible
Butcher Bear and Charlie
League of Extraordinary Gz
DJ Nick Nack
A-trak
Yelle
Pharoahe Monch
Jean Grae
POS
Dam-Funk
Dominique Young Unique
Black Nasty
DJ Bird Peterson
Crew 54
You can buy Fun Fun Fun Fest 2010 tix at the
early bird rate here
.
.
Want more RoA? Be our friend on Facebook. Add our RSS feed! [what's that?]. Start your morning with Republic of Austin in your InBox. Or read us 24-7 on Twitter
Related posts:
Is the ACL Fest 2010 line-up too alt? Chris takes a look at the line-up to find out...
24 Hours at SXSW 2010 – March 19th 2010 with Mairin Heard from KTSW's The Party Line with BC and Merch Share Unless you're surgically fused to someone, chances are you...
Related posts brought to you by Yet Another Related Posts Plugin.