Austin Halloween 2010 Parties
This may very well be the biggest Halloween EVER!! Here are some of our top picks!
Friday, October 29th, 2010
Brains, beards and fixies <-This ish is LE-GIT!
Giant Steps Productions is proud to present the East Austin Zombie Pub Crawl. Based on Minneapolis' famed Zombie Pub Crawl (6 years strong and drawing crowds of over 5,000 people) this is the first pub crawl of it's kind to hit the growing east 6th corridor.

If you prefer two wheels to walking Fast Folks will be organizing a pre-pub crawl ride that will get you to Liberty for the start of the night. More info coming soon.

LIBERTY 7:00
show up early for happy hour drink specials and finalize your zombiefication on Liberty's spacious back patio.

ITALO's 8:00

THE BRIXTON 9:00
$2 Pint specials courtesy of our friends at Modelo Especial.

RIO RITA 10:00

CHEER UP CHARLIE's 11:00
meet up with BearUp.com for a Bearz vs Zombiez showdown, participate in the zombie graveyard walk on your way to…

IRON GATE 12:00
Zombie dance party with DJs Hobo D and Pagame of Peligrosa.

**FRIENDS** Let's all be smart here and realize that Iron Gate isn't going to let ANYONE in the bar who appears to be overintoxicated. Be smart, responsible zombies so we can all keep the party going!!

EAST SIDE DRIVE IN
stop by the East Side Drive In for a bite to eat any time throughout the crawl. Vegan Yacht and #19 Bus offering specials all night for all you zombies.
Psychedelic/electro rock with vampires
RECSPEC and Represent Austin have teamed up with 101X to bring you a Lost Boys themed Halloween party fit for the thirstiest of vampires.

Featuring WOODGRAIN, FRESHMILLIONS, and FINGAAR BANGAAR with DJ Kon Karne after. Free vampire teeth and sunglasses for the first 100 people through the door!

Screening of the movie at 8pm (sponsored by Vulcan Video!), and Themed photobooth with photographer Alison Narro all night long.
Free vintage mustache rides…
This Friday! Come to The Bright Light Social Hour Halloween Show at The Parish on 6th! Playing with us will be the incredible Black Taxi from Brooklyn and local awesomes The Mercers.

It's a costume party and the theme is "Famous Moustaches in History." Suggestions:

Hulk Hogan
Ned Flanders
Sexy Wilford Brimley
Friedrich Nietzsche
Pancho Villa
Slutty The Monopoly Guy
but you can think of sooo many more

3 Prize categories:
-Famous Moustache: Female
-Famous Moustache: Male
-Best Non-Moustache Costume

Grand prize for the winner of each category includes:

-A dozen of Curt's homemade organic cookies
-1 CD from each band
-Tshirt from each band
-2 tickets to Oh Snap! Fest, Nov. 20 featuring The Bright Light Social Hour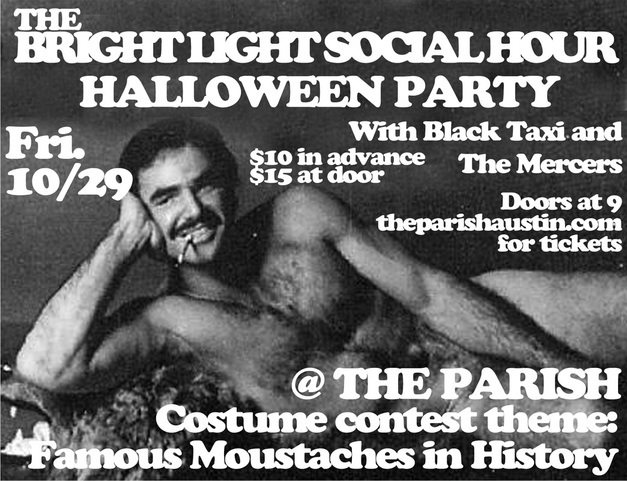 Hair Bear Scare
1st the Bearz squared off against the Gayznz and took home the title after a fierce rumble on Austin's east side. Now, the ultimate battle between fur-covered bears and flesh-eating zombiez goes down at Cheer Up Charlie's on Saturday, October 30th!

As with all BearUps parties, everyone is welcome and this time you are encouraged to come out in full costume. Prizes will be awarded for Best Overall Costume, Best Bear Costume, Best Zombie Costume, and Most Unique Costume!

ZOMBIE GRAVEYARD & ZOMBIE MAKEUP STATIONS PRESENTED BY GLITTERBEAST!!
Get yourself "dead" and march with your fellow zombies through our zombie graveyard at midnight!
We will have 3 Zombie Makeup Stations ready to transform you into the undead!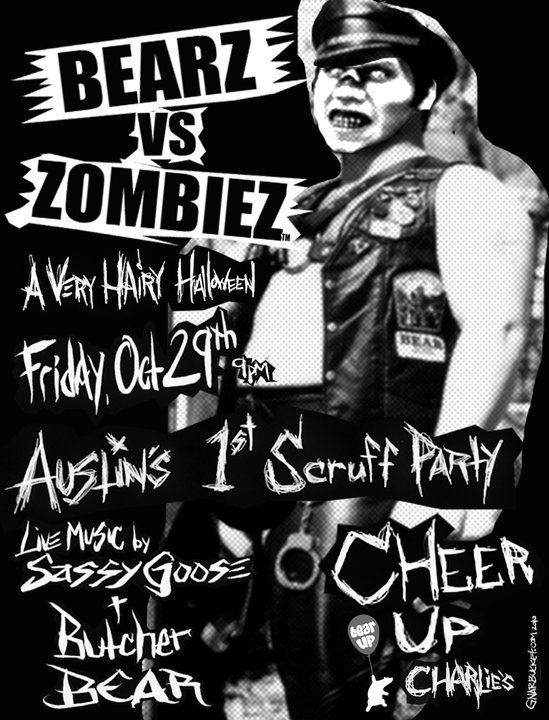 1960′s Halloween party: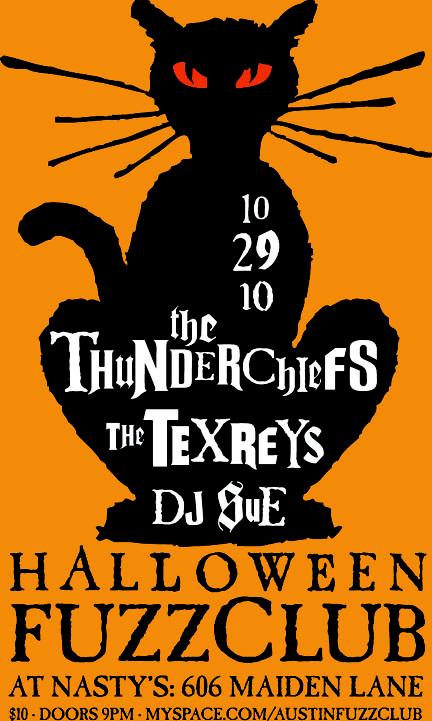 1980′s New Wave Halloween party:
Saturday, October 30th, 2010
Sustainable Zombiewave  <—Fun, but potentially a giant fustercluck.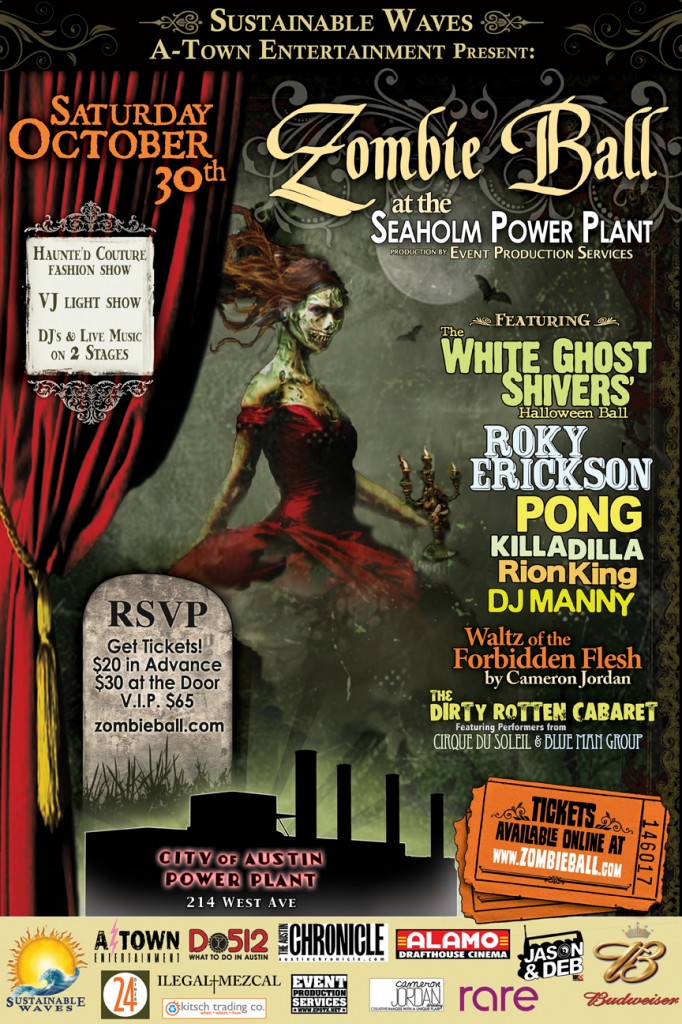 Psychedelic Rocking Halloween
The Reverberation Appreciation Society and Laced with Romance vintage are hosting a Halloween rock and roll costume party at The Mohawk, doubling as the APF3 screening party and a launch party for Laced with Romance's new online store. Wear your costume, we've all kinds of good stuff to give away to the costume contest winners. Here's what's going down:

The night starts early with the premiere screening of Austin Psych Fest 3 by Alta Real Pictures at 7:00, followed by live music on two stages from…

SCHEDULE

7:00 ::: Doors

7:30 ::: premiere of Austin Psych Fest 3 film (upstairs)

live music from
9:00 ::: Rayon Beach - Austin TX (outside)
10:00 ::: The Growlers - (outside
11:00 ::: Wooden Shjips (outside)
12:15 ::: Mondo Drag (inside)

costume dance party 12-2 outside
12:00 - 2 ::: DJ Markus - retro dance and vintage grooves
1:00 ::: Costume Contest (MC'd by KUT's Laurie Gallardo)

DJ MARKUS - spinning the finest vintage grooves from the past and present all night.

Costume contest MC'd by KUT's Laurie Gallardo. Contest prizes include $500 in gift certificates to Laced with Romance, 2 weekend passes for Fun Fun Fun Fest, 2 VIP passes to Austin Psych Fest 4, vouchers for free pizza from Hoboken Pies, haircuts from Bird's Barbershop and much more.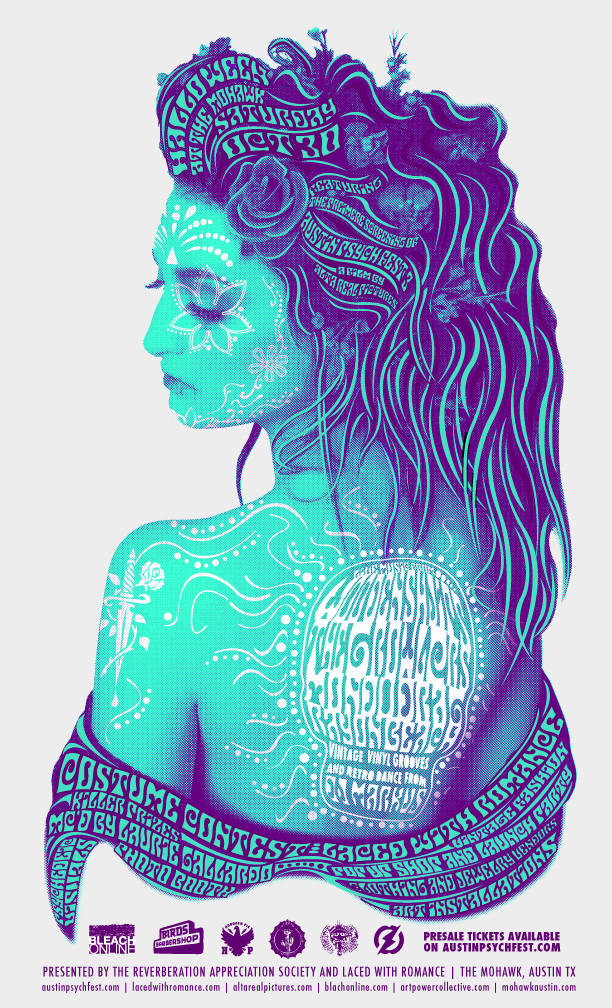 Undead Beauty Queen <-FREE
Zombie prom is back! We will have stylists and makeup artists onsite to get you looking zombified as well as a photobooth by Devaki Knowles to capture the night of the dead.

The coolest thing is that you can be in any costume…and still be a zombie! Zombie's come from all walks of life!

No cover!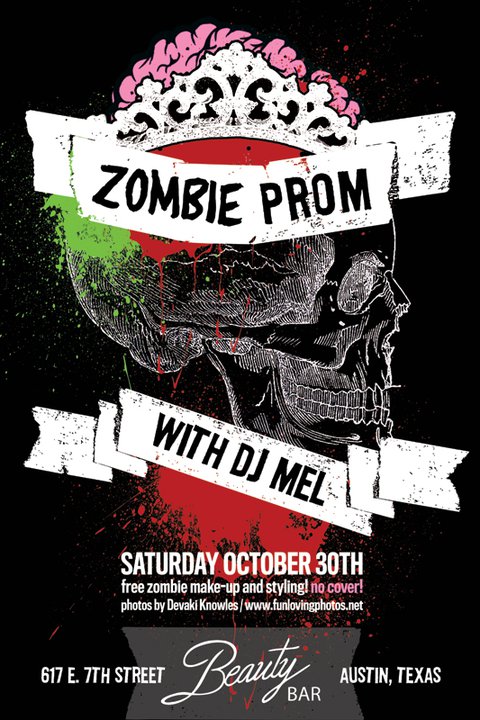 My bloody Gal-entine
Justine's Presents:
"Le Sang des Gitans: Gypsy Blood

……I never knew what life was until it ran out in a red
gush over my lips, my hands……..

This Saturday is our Halloween Party- our most decandent/macabre/rock and roll/dirty/beautiful wonderland night yet…..TWO STAGES.
Wolves, chandeliers, tribal dancers, a 12 piece vagabond circus mob from San Francisco in silk and ribbons, and a naked girl emerging from a bathtub of blood.

We'll be decked as vampire/gypsy/victorian/circus stars, but come in whatever fabulous thing you think up.

STARRING: THE YARD DOGS ROADSHOW
The Yard Dogs Roadshow is a hobo cabaret, a living patchwork of vaudeville and rock and roll. Born from the saloon vaudeville that toured the Wild West in the late 1800′s and slammed into the underworld of modern American road culture. They require a sensitivity to the subtle and the absurd. They lead the modern hobohemian on a visual and sonic journey through part of history that may or may not have existed. It's a true story on stage: sword swallowers, dancing dolls, fire eaters and sunset hobo poetry - all animated by the live sounds of the Yard Dogs cartoon heavy band. Yard Dogs Road Show is pure visual and sonic voodoo.
http://www.yarddogsroadshow.com/

AND the notorious: THE INDIGO BELLY DANCE
(featuring Rachel Brice and Mardi Love)
The Indigo Belly Dance, of which we have Rachel Brice and Mardi Love are the queens of tribal fusion belly Dance, truely beautiful, sometimes enchanting, sometimes macabre, often raucous, but always delightful, this outfit breathes new life into the movement and spectacle of a bygone era in their new knockdown revue.
http://www.youtube.com/watch?v=g2yp_eXjyhM

WITH a performance by the beautiful: LEILA BAZANNI
This is our finale performance. Leila Bazanni, (yes, naked) emerging from a bathtub of blood, think Elizabeth Báthory.
They did the mash… <-FREE
We're bringing it full blast at our annual Belmonster Bash….
No Tricks, only treats at this Halloween mash.

Costume Contest | Rad Prizes
Music by GOBI 10p-12a
Triple DJ Mashup 12a-2a | Featuring Hoodie Allen + Prep Mode

Drink Specials
Bottle Service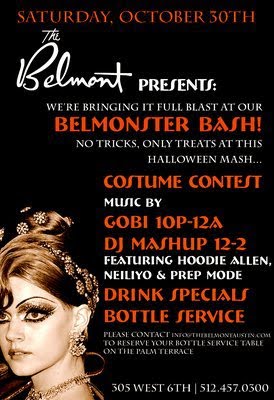 Do you know the way to…. <-FREE
Saturday October 30th
DJ Greg Most & DJ Second Line Social of Soul Happening DJ from 8-12am
Costume Contest
Costumes voted based on STYLE, UNIQUENESS, NERVE, & TALENT
o Prizes Include:
1st Place – One night at the HSJ and a $100 Bar Tab
2nd Place - $50 Bar Tab
3rd Place - $25 JO's gift card
½ price prosecco all weekend long & Beer Specials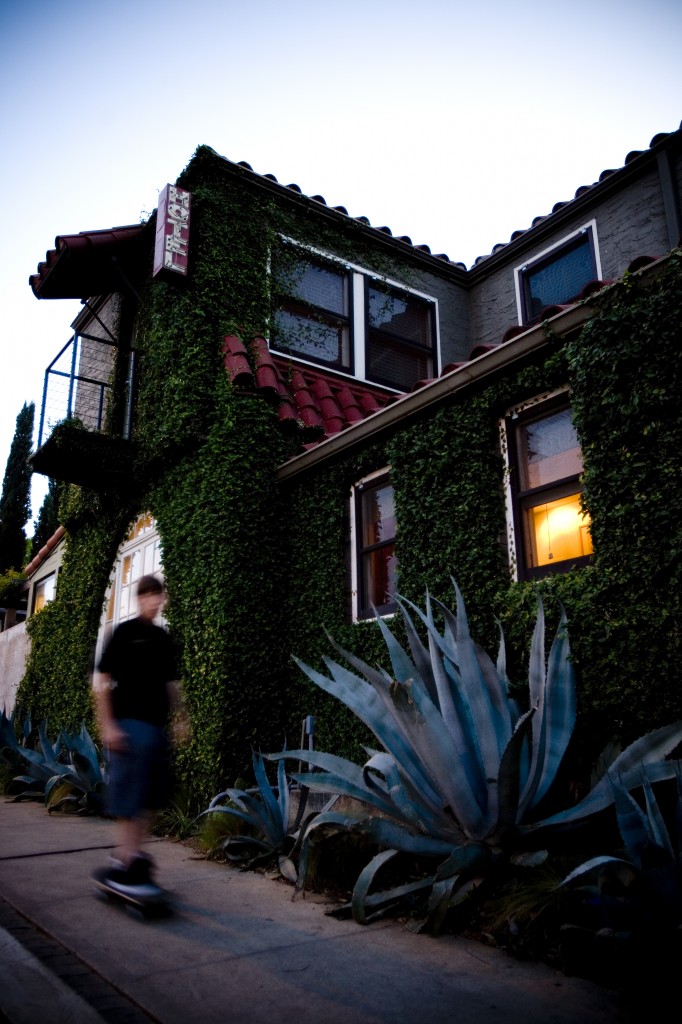 Whip into a frenzy
Fuck glow sticks at electro parties! first 50 folks through the door on bicycles get a free frogger bike light, compliments clown dog bikes!

6pm doors open BREDE & street fighter & mario kart tourny! winners get a mad gods skate deck donated by MADGODS, and some other sweet goodies!

8pm go go gadgets bring their super human powers to life with daetron vargas on decks.

10pm henry chow steps …. chase lisbon video presentation begins!

10:10-11:11 break dancers get down

11:11 fashion show begins and raffle winners announced! who will win that moto? compliments ploy and south austin moto classics!

12:00 jolie good night cleans up the house with her burlesque sensuality

12:12 MT sims steps on the decks.
12:30 Shepards graphic/media presentation.
1:00am WU Kungfu performance by Dragon with Jingyu Gu Wu School
2:00am time steps back again to 2:00 am with time change. Victor Ploy on decks last hr.

sexy CANDY XXX surprising the event through out the night with the most hard core S&M this town has seen in ages. I have been hearing all this mediocre electro/techno, and seeing S&M art work painted on t-shirts and all over town. its time for the real fucking deal! we brought the best in the world and locally to do it. this show should get wild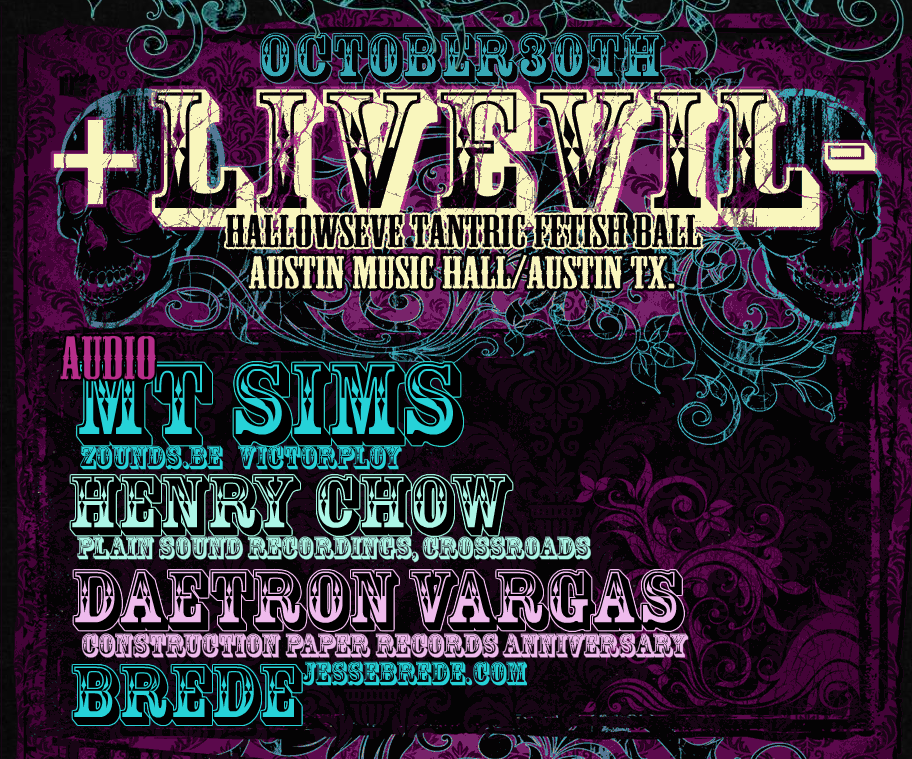 Dangerous Fever
Live Set by:

Chico Mann (NYC/Wax Poetics Records) www.chicomann.com

Free Chico Download via XLR8R:
http://www.xlr8r.com/mp3/2010/09/ya-yo-s

Pre-Order the Record:
http://store.waxpoetics.com/storefront/index.php?cPath=984

DJ sets by:

Peligrosa (ATX) www.peligrosablog.com

VJ Silencio (ATX) Special Video Mash-Up Set!
coolhands (Friends of Sound/ATX)

Record Fair by Friends of Sound Records, Live Art by b.e. STRANGE & Visuals by VJ Silencio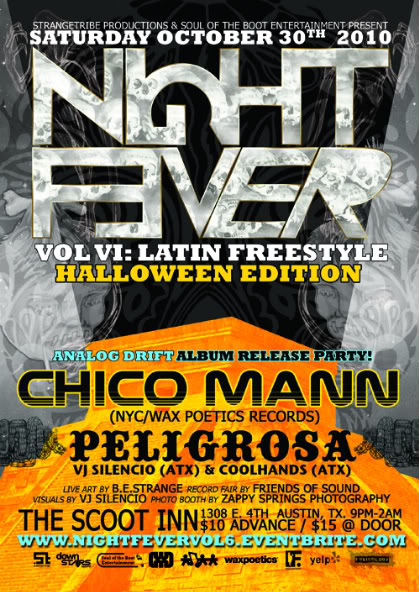 Trashy-headed Ho
with Austin's loveliest realityfuck
CHRISTEENE

christeene.org
|| || || || || || || || || ||

DJ's Manalog + CBass

Spinning good vibes house, funk and disco classics for fools 'n ghouls.
Come prepared to dance

==============

Chain Drive's Famous Fat Boy Dancers

Fried Chicken Surprises

Pigz Bobbing for Pigs Feet
___________________

Chain Drive Halloween, y'all.
It only happens once a year.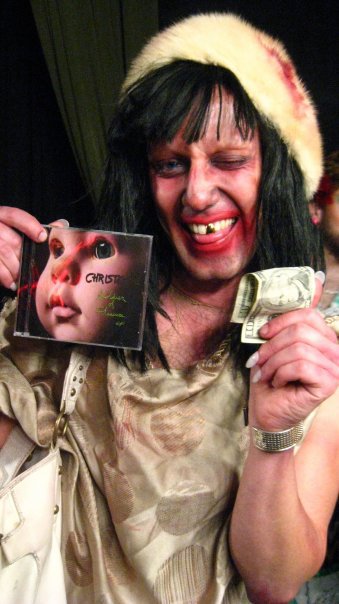 Take it to the bridge <—late night!
Late-Nite grooviness & funkiness on the bridge.

Costumes recommended.

Come out, have fun, leave no trace.

Gonna have a couple djs out here and a great vibe like always. This one starts a bit later than the rest.

Let's hope those outlets have power this time around
it's been a while :] Feel free to bring all your friends.
Related posts:
Related posts brought to you by Yet Another Related Posts Plugin.