Hi everyone,
I have lived in Texas my entire life except for the parts where I haven't. Actually my fiance (now wife), Marie, and I just moved here in May from the Midwest — a mystical fairyland filled  with corn husk and giant German people. I'm 23-years old, and originally from the Buffalo, New York area, specifically a little city called Jamestown. Buffalo is of course famous for its snow, chicken wings, and failing miserably at football. Naturally, then, we moved to a place that is 1,000 degrees and crawling with Cowboys fans and tacos. Hooray Austin!
I'm a history nerd-though also several other kinds of nerd. We spend our "spare" time hiking and visiting new places. It's been a treat to live in Austin. The people and culture have been exactly what we're looking for in a place. That's it, boring-old-me. I haven't spent anytime in Venezuela saving the dolphins or side-kicking with Jack Bauer on a cool mission in Antarctica, so there's not much else to say.
I'll leave you with this quote, from my favorite author, the late Kurt Vonnegut:
"If this isn't nice, I don't know what is."
I'd like to think, when reading my obviously outstanding history pieces here at RoA, that this is exactly what you're thinking. And if not, well, I'm going to pretend anyway.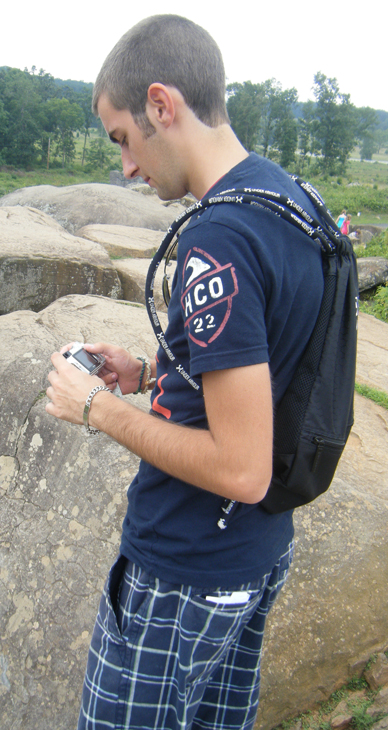 My Faves:
Movie: American History X
Austin Restaurant: Chuys (We've been here six seconds, give me a break)
Austin Landmark: The statue looking down on the Capitol from the UT campus is pretty cool.
Book: "Manhunt" by James Swanson
Pie: If "cheesecake" does not qualify as pie, then I don't like pie
Salsa: Something red and hot
Band/Musician: Bob Dylan, we named our puppy after this man
Etc.:
If you were a Mexican dish, what would you be? Enchiladas, the Cadillac of Mexican dishes
If I were a beer: Labatt Blue, bottled perfection
In my free time: Hiking, racquetball, reading, writing and movies
What is your guilty pleasure? Cherub Tomatoes. If not for the starvin Somalis, I'd eat the whole world's supply
Related posts:
Blogger Intro: Linsey Meet our new style blogger, Linsey Krauss....
Related posts brought to you by Yet Another Related Posts Plugin.